About Tyson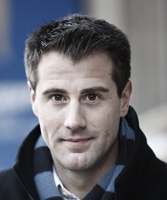 TYSON PLESUK
MScPT, BPHE, BSc, CAFCI, CGIMS, Cert. Sport Physio, Cert. Manual Therapist

Tyson Plesuk is a sports and manual physiotherapist who works with Olympic, NHL, and other professional and amateur athletes, as well as people of all ages and backgrounds from the general public.
His choice of a career in physiotherapy arose from a keen interest in his own recovery from injuries sustained while participating in hockey, lacrosse and volleyball.
Tyson is committed to further develop his knowledge and skills within the field of physiotherapy by completing a number of courses. He has completed courses in: Acupuncture, Manual Therapy, Fascial Release, and Injury Prevention. Tyson attended the International Olympic Committee's Injury Prevention Conference in Monaco. He has also taken courses in assessing functional movement, including being SFMA (Selective Functional Movement Assessment) certified.
While attending Queen's University to acquire a Bachelor's degree in Physical and Health Education and a Bachelor's degree in Science (Biology), Tyson was captain of the hockey team and an Academic All-Canadian. After completing his undergraduate degrees, he received his Master's of Science in Physical Therapy from the University of Alberta. He is certified in acupuncture with the Acupuncture Foundation of Canada, a Gunn Intramuscular Stimulation (IMS) practitioner, certified in Spinal Manipulation. Tyson also has a Certificate in Sports Physiotherapy from Sport Physiotherapy Canada.
Tyson served as the head physiotherapist at the 2009 Brier (Canadian men's curling championship) and the Roar of the Rings Olympic Curling Trials. He is also a consultant to the Canadian Sport Institute and B2ten, and works with athletes from Bobsleigh Canada Skeleton, Hockey Canada, Alpine Canada, and Athletics Canada. In 2014, he was part of the Canadian medical team for the Olympic Winter Games in Sochi, Russia.
Through advanced training, Tyson is authorized to order diagnostic imaging, and as a result has the ability to directly refer patients for x-ray, ultrasound and MRI diagnostic services.
Tyson enjoys spending time with his family, and in his spare time, he enjoys weight training, running road races (10 km's & half marathons), and playing hockey.
Services

Acute Injury Management and Treatment, Movement Screening & Functional Assessments, Performance Enhancement Therapy & Injury Prevention, NeuroKinetic Therapy (NKT)...

Read more

Treatment Techniques

Intramuscular Stimulation (IMS), Fascial Release, Acupuncture, Instrument Assisted Soft Tissue Mobilization (IASTM) & Joint Mobilizations & Manipulations, Exercise Prescription & Exercises

Read more